After two years and some-odd months of food blogging, I have finally decided to put myself to the test, find out just how much I have really grown over the years. That's right, I entered the Foodbuzz Project Food Blog Challenge. What is the the Project Food Blog Challenge? It's pretty much like the Next Food Network Star, but for bloggers (that's really the easiest way to describe it). Except, you know, without the awesome food show at the end (although the year-long feature on Foodbuzz and $10k aren't exactly a bad prize)...
Starting on an adventure such as this really makes you stop, and think about "Why on earth did I start blogging about food anyways?" Two years ago food blogging was just starting to come into its own. At that time your mom, dog, and crotchety old neighbor all didn't have blogs and several of a restaurant's clientèle were not trying to sneak in quick shots of their food when no one was looking. But it was taking off, and quickly headed in that direction. That's when I jumped on board.
I was getting married in 6 months, I was out of college, and I honestly didn't really know much about cooking (baking yes, cooking no). The only way I really knew how to "cook" a breast of chicken was by throwing it in the microwave. (Insert embarrassed face here.) Yet I knew I didn't want to be constantly eating out and fighting the "what do you want for dinner?" "No, what do YOU want for dinner?" battle every night. Something had to change.
See, I was taught the wonderful art of licking the bowl at a very young age. Learning how to actually make the goodies came later.
And it did. I came across recipes that sounded tasty and were way down at the baby-step level of culinary ability -- right where I needed to be. I learned how to properly (and in some cases improperly) cook chicken on the stove-top, how to make homemade pasta, discovered I was capable of cooking meats (at the begging of Adam) other than chicken, as well as a whole slew of other things. Through it all, I started and kept up with this blog... more as my online recipe book than anything else at first, but since it's conception, it's morphed into so much more.
Eventually, I started to tweak my posting for the benefit of my readers. In September 2008, I added my rating system, allowing readers a quick peak at what my overall thoughts on the dish were. In February 2010, I added a new "healthy" rating system putting a little heart next to dishes I thought were low in calories, fat, and cholesterol and including the nutrition facts for those recipes. Finally in early August I made my final updates to my "healthy" rating system, indicating dishes with low calorie, low saturated fat, low cholesterol, low sodium and those under 500 calories as well as including the nutrition facts for
all
my dishes. I didn't do it for me (okay, well, partially, but mostly for you!).
This is what makes my blog truly unique. I don't bias my health ratings towards any diet fad or health risk. I just put the facts out there. I let you see what you are actually eating. If you are out there looking for meals low in saturated fat, just click the link on the side, and BAM you have 60 recipes all low in saturated fat. Or you can calculate your own WW points. Or you can eat and enjoy the Beef Wellington topping over 1,000 calories and not care. It's up to you and what YOU'RE looking for. I'm not out to smack you upside the head with "you must eat healthy!" or "this diet is better than that diet", there's enough of that out there. I just want you to be able to make a decision that fits into your daily needs.
I like to pull a little bit of everything from everywhere: magazines, blogs, internet sites... Occasionally I will bust out some random fancy-pants looking dish, but usually I am a straight-forward let's-get-this-done type of kid. I heart my 30 minutes and under meals. Let's face it -- those are the realistic ones. The ones I will actually make time and time again. My goal with continuing to share my eating adventures, is that you'll join along with me, and try something new, pushing at the outside of your comfort zone to prove that, yes, you really CAN make that dish and it was
easy
.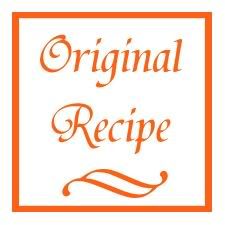 Enough of all this jibber-jabber though. It's getting a little too mushy and lovey-dovey for me. I want food! To honor the start of the PFB competition, I decided to go back and see what I made for my very first food post and perform a re-do, if you will. Turns out, it was these
Dark Chocolate Cupcakes with Oreo Raspberry Frosting
.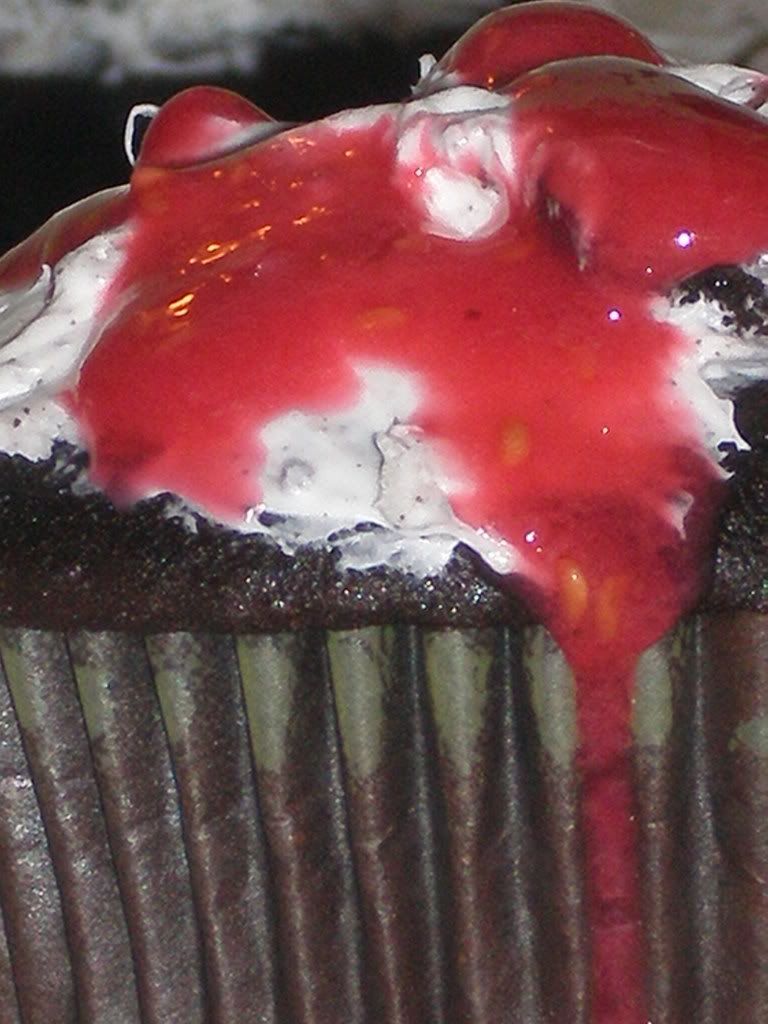 First Food Post. Ever.
Looks like Adam's co-workers got lucky today!
Chocolate-Dipped Chocolate Raspberry Cupcakes
From: Original Recipe
For Dark Chocolate Cupcakes:
2 cups boiling water
1 cup Hershey's Special Dark cocoa (or Dutch-processed cocoa)
2 3/4 cups cake flour
2 teaspoons baking soda
1/2 teaspoon baking powder
1/2 teaspoon salt
1 cup butter, softened
2 1/4 cups white sugar
4 eggs
1 1/2 teaspoons vanilla extract
For Chocolate Ganache:
1/2 cup heavy cream
4 ounces bittersweet chocolate, finely chopped
2 tablespoons butter
For the Raspberry Cream Cheese Frosting:
8 tablespoons (1 stick) butter
8 ounces reduced-fat cream cheese
1 1/2 pounds powdered sugar
1 teaspoon vanilla extract
6 ounces raspberries, pureed and strained (seeds removed)
For the cupcakes:
Preheat oven to 350 degrees F. Line a muffin tin with baking cups.
In a medium bowl, pour boiling water over cocoa; whisk until smooth. Let mixture cool.
In another medium bowl, sift together flour, baking soda, baking powder, and salt.
In the work bowl of a mixer, cream together butter and sugar until light and fluffy. Beat eggs in, one at a time, making sure each is fully incorporated before adding the next. Stir in vanilla. Add the flour mixture alternately with the cocoa mixture until all ingredients are fully incorporated.
Divide batter between baking cups, and bake at 350 for 18-22 minutes, or until a toothpick inserted in the center comes out clean. Allow to cool for 5-10 minutes in pan before removing to wire racks. Allow to cool completely.
For the ganache:
In a small saucepan over medium-low heat, combine the cream, chocolate, and butter. Stir frequently until the butter is melted and all ingredients are well mixed. Remove from heat and allow to cool slightly.
For the frosting:
In a large mixing bowl, cream the butter and cream cheese until light and fluffy. Add in the vanilla. Slowly add in 1 pound of powdered sugar and mix until smooth and creamy. Pour in raspberry puree and mix until well combined. Add in (slowly) the remaining 1/2 pound of sugar as needed.
To assemble:
Once the cupcakes and ganache have cooled, turn the cupcake upside down and dip the top in the ganache. Slowly rotate so that the entire top of cupcake is covered, making sure ganache does not get on the cupcake liner. Flip right-side up, and allow the ganache to slightly firm up. Pipe or spread on frosting. Garnish with an additional fresh raspberry if desired. Refrigerate if not consuming right away.
Makes: 34-36 cupcakes
Mmmm soooo good and chocolatey. The ganache gives an extra unexpected little chocolate boost that is super tasty and gooey. Maybe next time I'll try the frosting with mascarpone instead of cream cheese to let the raspberry sing a little more.
Just don't forget to lick the beaters, or the spoon, or the bowl...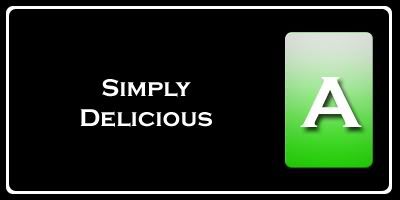 Nutrition Facts
Amount per serving
Calories 308
Calories from fat 124
% Daily Value
Total Fat 13.8g
21%
Saturated Fat 8.5g
43%
Cholesterol 56mg
19%
Sodium 203mg
8%
Total Carbs 45.2g
15%
Dietary Fiber 1.5g
6%
Sugars 34.9g
Protein 3.1g
Vitamin A 8%
Vitamin C 2%
Calcium 3%
Iron 6%