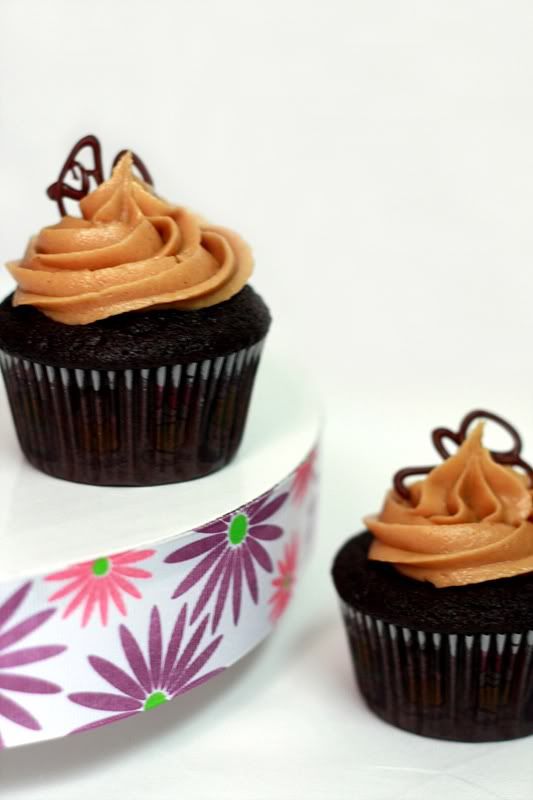 Going into this post I was all about going after how wonderful the marriage of chocolate and peanut tastes. Then I stopped and thought about it. There is no way you can truly "marry" chocolate to peanut butter and vice versa. No, they will forever belong in the swinger crowd. I mean, peanut butter is well known to get friendly with jelly or apples and chocolate... well chocolate might be in a category all by itself. Chocolate gets around. It loves berries and caramel and marshmallows and graham crackers and... well, you get the idea. Chocolate has earned itself a reputation. Which is why a marriage between chocolate and peanut butter would just never work. BUT, when they get together, it's definitely one of those matches made in heaven.
Of course, the chocolate and peanut butter cupcake combination has been around forever. Nothing new. Yet, I don't think I have ever attempted making it. So after seeing a few pop up on my reader, I decided to take the plunge. I went for
Brown Eyed Baker's
Dark Chocolate Cupcakes with Peanut Butter Frosting. Yes, I fell for the promise of sinful-tasting peanut butter frosting paired with a moist dark chocolate cake. And right out of the oven, cooled then frosted... it was everything I expected it to be. (Things changed a bit later, we'll get to that after the recipe.)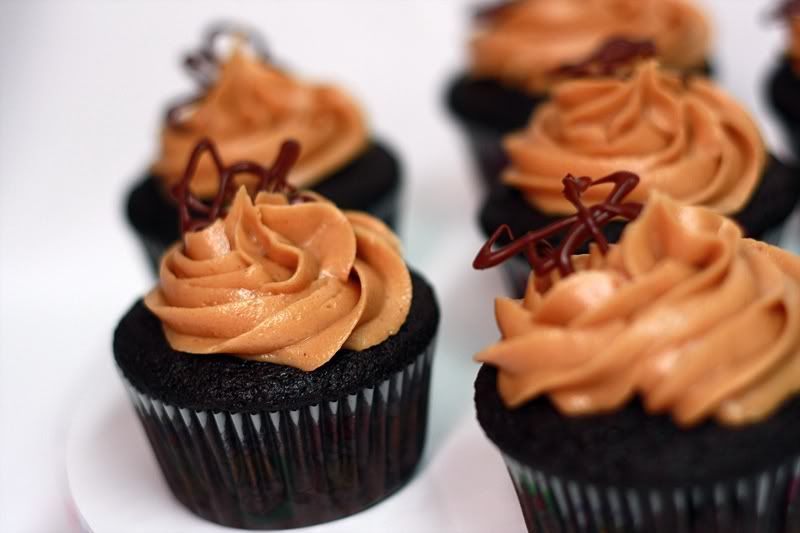 8 tablespoons (1 stick) butter, cut into 4 pieces
2 ounces bittersweet chocolate, chopped
1/2 cup Hershey's Special Dark cocoa powder (or Dutch-processed if you can find it)
3/4 cup all-purpose flour
1/2 teaspoon baking soda
3/4 teaspoon baking powder
2 eggs
3/4 cup granulated sugar
1 teaspoon vanilla extract
1/2 cup sour cream
1 cup powdered sugar
1 cup creamy peanut butter
5 tablespoons unsalted butter, at room temperature
3/4 teaspoon vanilla extract
1/4 teaspoon kosher salt
1/3 cup heavy cream
For the cupcakes:
Preheat oven to 350 degrees F. Adjust oven rack to lower-middle position. (If you are using a non-stick muffin pan, heat the oven to 325 degrees F.) Line standard-size muffin pan with baking cup liners, or grease the pan if you are not using them.
In a medium heatproof bowl, combine butter, chocolate, and cocoa. Place bowl in microwave and heat on defrost in 30 second intervals, stirring well between each, until mixture is melted and smooth. (Or you can opt for the longer, more "correct" method: set bowl over saucepan containing barely simmering water; heat mixture until butter and chocolate are melted and whisk until smooth and combined.) Set aside to cool until just warm to the touch.
In a small bowl, whisk flour, baking soda, and baking powder together.
Whisk eggs in second medium bowl to combine (this is the bowl that everything will end up in). Add sugar and vanilla until fully incorporated. Add cooled chocolate mixture and whisk until combined. Sift about one-third of flour mixture over chocolate mixture and whisk until combined; whisk in sour cream until combined, then sift remaining flour mixture over and whisk until batter is homogeneous and thick.
Divide the batter evenly among muffin pan cups. Bake until skewer inserted into center of cupcakes comes out clean, 18 to 20 minutes.
Cool cupcakes in muffin pan on wire rack until cool enough to handle, about 15 minutes. Transfer cupcakes to a wire rack and cool to room temperature before icing, about 30 minutes.
For the frosting:
In the bowl of a mixer, beat together the butter and peanut butter until creamy. Slowly mix in the sugar followed by the vanilla until mixture is smooth. Add the cream and beat on high speed until the mixture is light and smooth.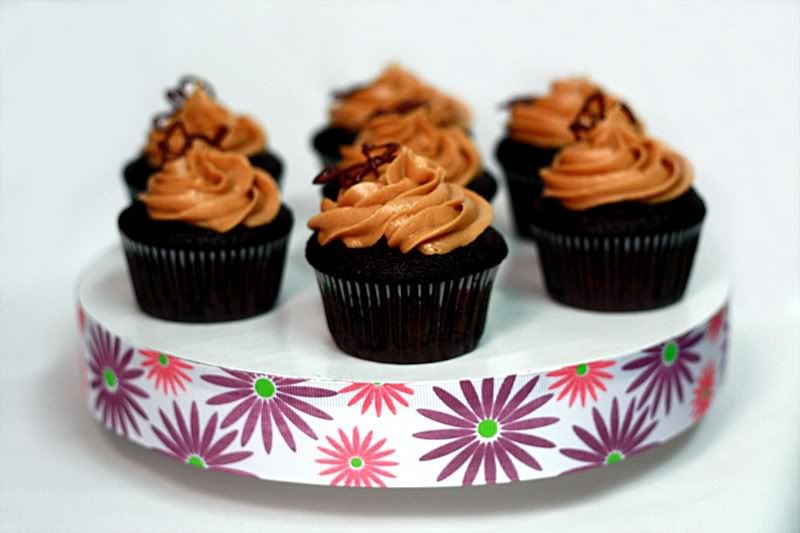 The first time I tried this, it was just the right balance of cupcake with frosting. Okay, maybe the peanut butter was outweighing the chocolate a little bit. I had big plans for these cupcakes. They were going to accompany me down to a little family get-together in Cincinnati over the weekend. So I put these together on Thursday, and they went into a bakery box, ready to be eaten on Friday. After my little taste test post-baking, I thought we were ready to go. When I took a little bite from Adam's late on Friday night, I noticed it was getting fairly dry, especially along the outside. Hmm, that's not good. And when I tried another piece on Saturday -- very dry. That was a bummer. The
Strawberry Basil Lemonade Cupcakes
had also tagged along with us, but were definitely not plagued by this dryness -- at least not at the same rate.
That was kind of a huge let down. While moist and tasty at first, these go super dry fairly fast. I would definitely make these again if I was serving them that night, but as my stuff usually gets eaten the following day, I think I'm going to keep looking.
The frosting on the other hand. Now that was delicious, and held up well all the way through Saturday night. That recipe I'm keeping around for sure.
For the cupcakes:
For the frosting: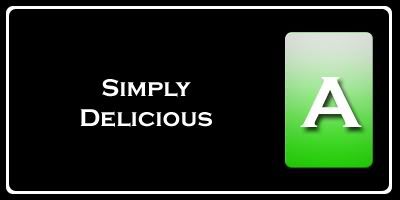 Nutrition Facts
Amount per serving
Calories 430
Calories from fat 263
% Daily Value


Total Fat 29.2g
45%


Saturated Fat 13.7g
68%


Cholesterol 74mg
25%


Sodium 311mg
13%


Total Carbs 38.2g
13%


Dietary Fiber 2.7g
11%


Sugars 26.9g


Protein 8.6g


Vitamin A 11%
Vitamin C 0%


Calcium 6%
Iron 9%