Didn't we just have a conversation about wasting food?
I think we did.
Which is just where this recipe
started
to become a mess.
First there is a marinade, which needs to be prepped and ready for the pork to go swimming minimum 8 hours in advance. In went the soy sauce, the honey, the vinegar, oil, hoisin sauce, chili paste, and garlic cloves. Wait, was that only 1 tablespoon oil? Not all 3? Crap. And sesame oil is so potent that adding
that
much extra oil... that's all you would taste. Ugh. Down the drain it had to go. Luckily, I had enough to make round two, but still frustrating nonetheless.
Of course, the grocery store didn't have the exact cut of meat I was looking for -- instead of a nice whole boneless pork shoulder, I could only find pork shoulder steaks, bone-in. Figured it wouldn't make that much of a difference. Eh... not completely sure about that. I had what I had and we were going forward with it. I was just hoping all the ingredients were going to play nicely. I have such wishful thinking and live in la-la land sometimes...
Char Siu Over Sesame Noodles
Adapted From:
Cooking Light
, October 2009
1/2 cup soy sauce, divided
1/4 cup honey
3 tablespoons rice vinegar
3 tablespoons sesame oil, divided
2 tablespoons hoisin sauce
2 tablespoons chile paste with garlic (such as sambal oelek), divided
5 garlic cloves, divided
1 (1 1/4-pound) boneless pork shoulder (Boston butt), trimmed
12 ounces maifun (rice noodles)
1/4 cup lime juice
1 1/2 tablespoons sugar
3 tablespoons fresh cilantro leaves
In a small bowl, combine 1/4 cup soy sauce, honey, vinegar, 1 tablespoon oil, hoisin, 1 tablespoon chile paste, and 3 garlic cloves, stirring well with a whisk. Place pork in a heavy-duty zip-top plastic bag, followed by the soy sauce mixture; seal. Marinate in refrigerator 8 hours or overnight, turning occasionally.
Preheat oven to 450°F.
Remove pork from bag; reserving marinade. Place a roasting rack in a small roasting pan; fill pan with water to a depth of 1/2 inch. Place pork on rack. Roast pork at 450°F for 15 minutes. Using reserved marinade, baste pork, turn and baste other side. Reduce oven temperature to 400°F. Cook pork an additional 40 minutes, basting every 10 minutes. Discard remaining marinade. Let pork stand 10 minutes; thinly slice.
Prepare noodles according to package directions; drain. Combine remaining 1/4 cup soy sauce, remaining 2 tablespoons oil, remaining 1 tablespoon chile paste, remaining 2 garlic cloves, juice, and sugar in a large bowl, stirring well. Add noodles to bowl; toss to coat. Divide noodles evenly among each of 6 bowls. Sprinkle about 1 tablespoon cilantro over each serving. Divide pork evenly among bowls.
So if you're wondering, no, not all the ingredients played well with others in this dish. I felt like the pork turned out too dry and tough (Adam disagreed and thought his was good), although we both agreed the marinade was quite tasty and gave the pork a nice delicious crust.
However, the noodles... oh the noodles. I'm not sure if it was because I had the wrong kind of noodles, which sopped up all of the sauce just looking at it, without enough to completely cover the majority of the noodles, or if it was just the recipe. Not only did the sauce not give enough coverage to those poor noodles, but the balance with the sesame oil was just not right. I realize that these were supposed to be "sesame noodles", but these were noodles on sesame overload. Just too much for our liking.
Definitely will not make this recipe in its entirety again. We may keep that marinade around for something, but that sauce for the noodles has to go.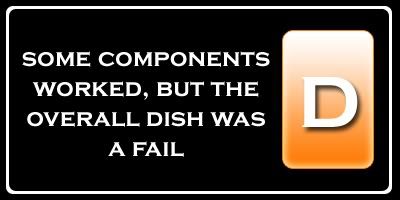 Nutrition Facts
Amount per serving
Calories 347
Calories from fat 94
% Daily Value


Total Fat 10.4g
16%


Saturated Fat 2.1g
11%


Trans Fat 0.0g


Cholesterol 69mg
23%


Sodium 1383mg
58%


Total Carbs 34.7g
12%


Dietary Fiber 1.1g
4%


Sugars 16.8g


Protein 27.0g


Vitamin A 1%
Vitamin C 10%


Calcium 2%
Iron 10%