Take a seat. Yes, you really need to be seated for this one. I
actually
made a side dish to go with my
Pork Roulade
the other night. Seriously, I know. What's the world coming to? And.... wait for it.... they were both brand-new recipes. Whew, that just wears me out thinking about it again. :)
The apple pickins' from our trip a while back were still hanging around and I wanted to actually use them up. You know, versus my typical throwing away habit. I found a recipe for Potato-Apple Latkes hiding out amongst my other unloved unmade recipes and decided it used up 2 apples, count it in. But you just can't have that for dinner. Well I suppose you could, but I don't think Adam would talk to me for a while after that... that's where the roulade came from. Bye-bye apples!
Potato-Apple Latkes
Adapted from: Bon Appetit, December 2009
6 cups shredded, peeled Yukon gold potatoes (about 2 pounds)
2 cups shredded apples (I used Empire)
1 1/2 teaspoons salt, divided
1/2 teaspoon ground black pepper
1/2 cup all-purpose flour
6 tablespoons canola or vegetable oil, divided
1 teaspoon granulated sugar
In a colander, combine shredded potatoes, shredded apples, and 1 teaspoon salt. Let stand 20 minutes, pressing occasionally with the back of a spoon until barely moist.
In a large bowl, combine potato mixture, remaining 1/2 teaspoon salt, and pepper. Add flour to mixture and toss well to combine.
Heat a 12" nonstick skillet over medium heat. Add 1 1/2 tablespoons oil to pan, swirling to coat. Add potato mixture in 1/3 cupfuls to pan, forming 4 latkes; flatten slightly. Cook for about 6 minutes on each side, or until golden brown. Remove latkes from pan and keep someplace warm. Repeat 2 more times with remaining oil and potato mixture.
Makes: 12 latkes
These actually went really well with the roulade, the starchiness of the potato nicely complimenting the heavy amount of pork. A great addition to this is to add just a little dollop of either sour cream or greek yogurt to the top. The apple flavor in these isn't so much prominent, but it is more there for the juice anyways. And can I say just how great it is to have a shredder attachment for my food processor? Makes life SO much easier.
After cooking one or two of these at the recipe's recommended medium-high heat, I decided that medium heat worked best (read... I burnt the crap out of those first two guys), and it still cooked the latkes through nicely. Definitely a nice side dish for a meat heavy meal, in a non-breakfasty kind of way.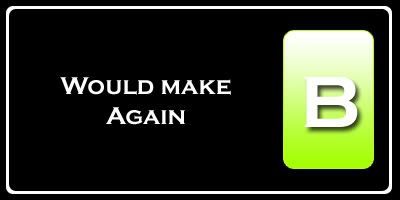 Nutrition Facts
Amount per serving
Calories 160
Calories from fat 63
% Daily Value
Total Fat 7.0g
11%
Saturated Fat 1.4g
7%
Cholesterol 0mg
0%
Sodium 299mg
12%
Total Carbs 22.9g
8%
Dietary Fiber 2.3g
9%
Sugars 3.1g
Protein 2.5g
Vitamin A 0%
Vitamin C 14%
Calcium 1%
Iron 6%