Spaghetti? Adam loves spaghetti. Bacon? I love bacon. Together? This I have to check out.
I had found this recipe for Amatriciana (yep, the name suckered me in... again) months ago, but just kept putting off making it. Well, half the time I would forget, and the other half of time it ended up being the one recipe on my weekly menu list that we would never get to. It wasn't because I didn't want to make it, but it just seemed so familiar and so much like your average spaghetti-type dish that I kept switching it out for what I thought was more exciting and less-common things (yes, I'm looking at you
falafels
).
Turns out I was both right and wrong for thinking this was just like your everyday pasta and marinara sauce dish. Yes, it has that tomato base for the sauce, with the onions, basil, oregano, and garlic -- all very traditional. But then there's the bacon. It imparts a whole different layer of flavor into the sauce. That meaty, smoky flavor that is achieved by few things other than bacon (chipotle powder or ancho chile powder are two vegetarian ways to get this same kind of smoky flavoring). It turns the sauce into something definitely different, yet still oh so familiar.
4 slices bacon, diced
1/2 cup chopped onion
1 teaspoon minced garlic
1/2 cup white wine
1/4 teaspoon crushed red pepper flakes
2 (14.5 ounce) cans stewed tomatoes, undrained
1 pound linguine pasta, uncooked
1 teaspoon dried basil
1/2 teaspoon oregano
2 tablespoons Parmesan cheese, grated
In a large saucepan over medium-high heat, cook bacon until done, but still slightly chewy, about 5 minutes. (That's how
I
prefer my bacon -- you can cook until crisp if you like it that way better.) Drain all but 2 tablespoons of drippings.
Add onions, and cook for 3 minutes, stirring occasionally. Mix in garlic and red pepper, cooking until fragrant, about 30 seconds. Add wine and bring to a boil. Allow the wine to reduce down until there is barely any liquid left, about 5 minutes. Add tomatoes with juice, basil and oregano. Lower heat and simmer for 20 minutes, breaking up tomatoes as they soften.
Meanwhile, in a large pot, bring 4-6 quarts of water to a boil. Cook pasta according to package directions to al dente. Drain.
Toss pasta with sauce and serve sprinkled with Parmesan cheese.
Serves: 8
Um, yes, so I took a meal that was supposed to be ready in 35 minutes, and extended it to meal ready in a little under an hour. Oops. Hey, I believe you need to let the sauce simmer to really help meld the flavors. I used regular bacon when making this, although I think using peppered bacon could really add a nice punch. But then again, I feel like there's little in life peppered bacon couldn't knock up a peg.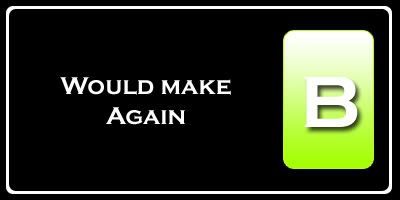 Nutrition Facts
Amount per serving
Calories 280
Calories from fat 70
% Daily Value


Total Fat 7.8g
12%


Saturated Fat 2.4g
12%


Trans Fat 0.0g


Cholesterol 58mg
19%


Sodium 367mg
15%


Total Carbs 36.6g
12%


Dietary Fiber 1.4g
6%


Sugars 3.1g


Protein 13.2g


Vitamin A 19%
Vitamin C 23%


Calcium 4%
Iron 14%