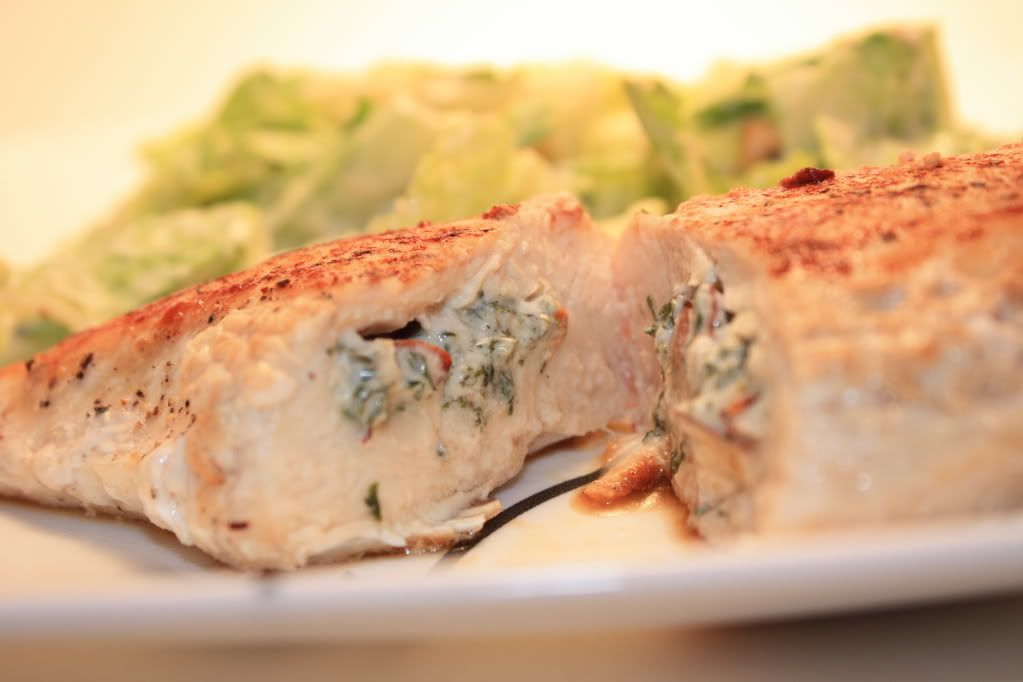 As you can probably tell, I am a big fan of chicken. It's just such a versatile ingredient to cook with. One of my favorite ways to cook chicken is to stuff it with something -- usually something cheesy. So when I came across this recipe in the March issue of
Cooking Light
, of course it caught my eye.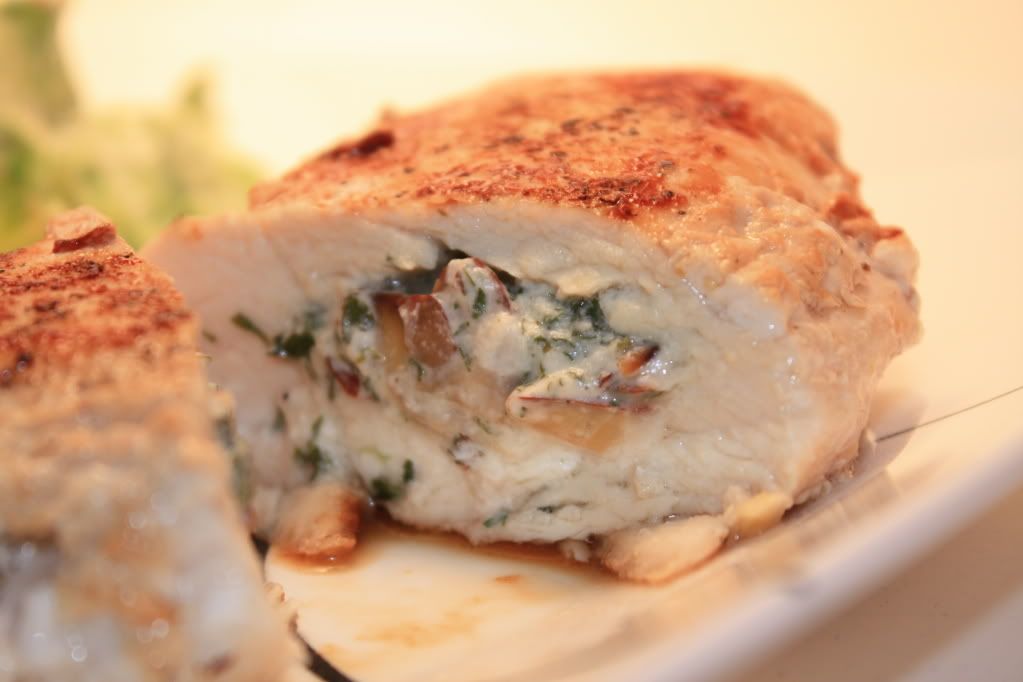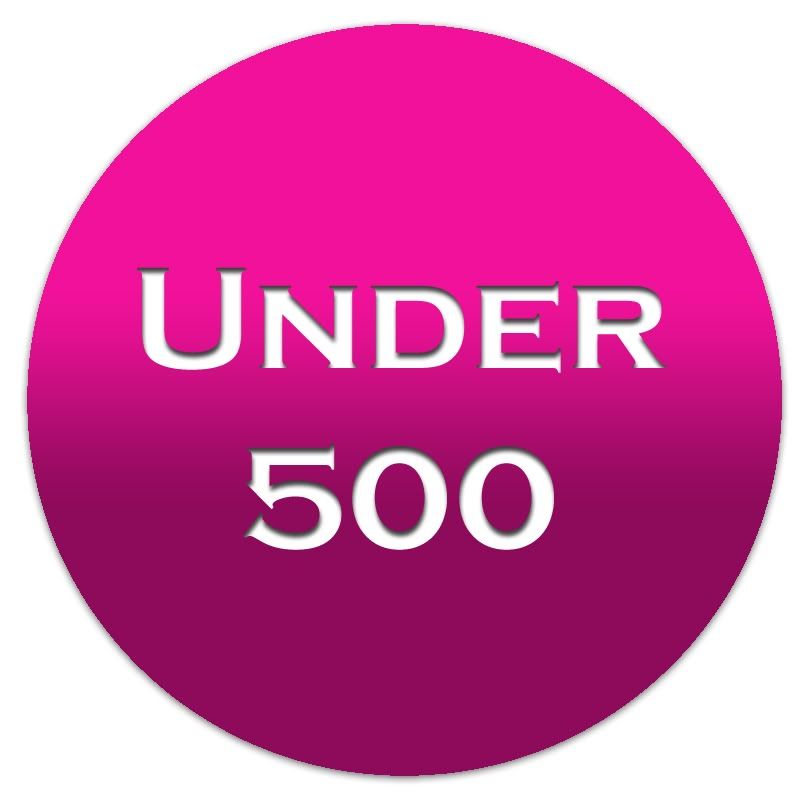 Almond-Stuffed Chicken
1/3 cup light garlic-and-herbs spreadable cheese (such as Boursin light)
1/4 cup slivered almonds, toasted, coarsely chopped, and divided
3 tablespoons chopped fresh parsley, divided
4 (6-ounce) skinless, boneless chicken breast halves
1/2 teaspoon salt
1/4 teaspoon freshly ground black pepper
1 1/2 teaspoons butter
Combine spreadable cheese, 3 tablespoons almonds, and 2 tablespoons chopped fresh parsley in a small bowl. Set aside.
Cut a horizontal slit through thickest portion of each breast half to form a pocket. Stuff 1 1/2 tablespoons almond mixture into each pocket; secure each pocket with a wooden pick. Sprinkle chicken with salt and pepper.
Heat butter in a large nonstick skillet over medium heat. Add chicken to pan; cook 6 minutes on each side or until done. Remove from pan; cover and let stand 2 minutes. Top chicken with remaining 1 tablespoon almonds and remaining 1 tablespoon parsley.
Serves: 4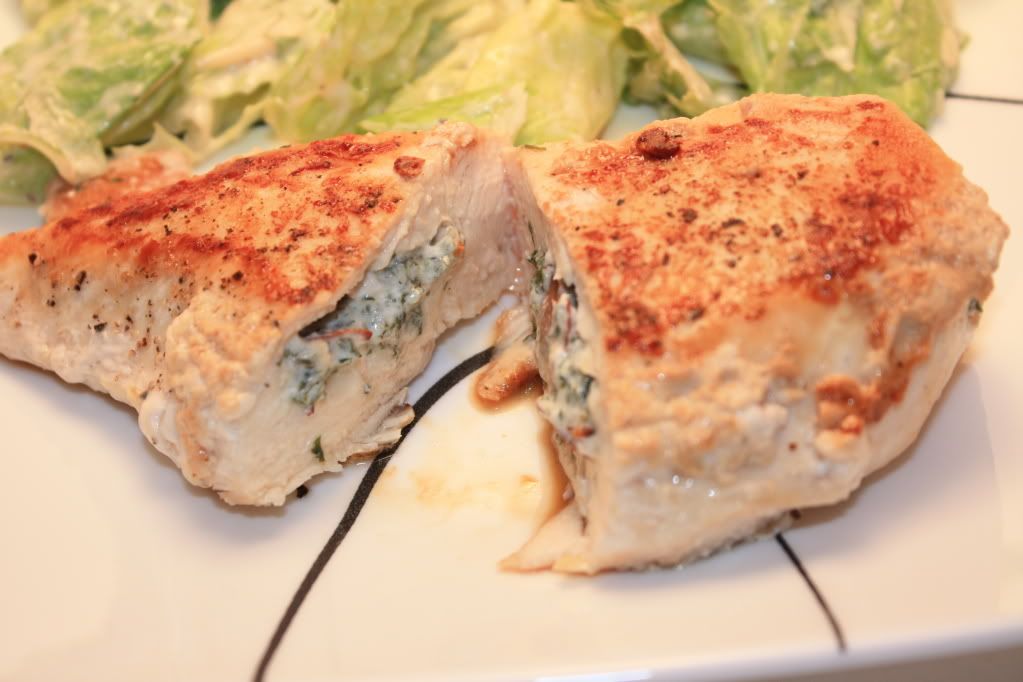 So we were a little "eh" on this one. It certainly looks tasty, and sounds tasty, but I felt like the almonds kind of gave it a weird texture. And I was definitely "eh" on the taste. I think the cheese by itself would have been alright, but the almonds kind of overdid it.
But the leftover cheese make for a tasty (if not expensive) spread on crackers!
Nutrition Facts
Amount per serving
Calories 247
Calories from fat 92
% Daily Value


Total Fat 10.2g
16%


Saturated Fat 3.1g
15%


Trans Fat 0.0g


Cholesterol 107mg
36%


Sodium 680mg
28%


Total Carbs 2.1g
1%


Dietary Fiber 0.8g
3%


Protein 39.0g


Vitamin A 6%
Vitamin C 6%


Calcium 4%
Iron 2%