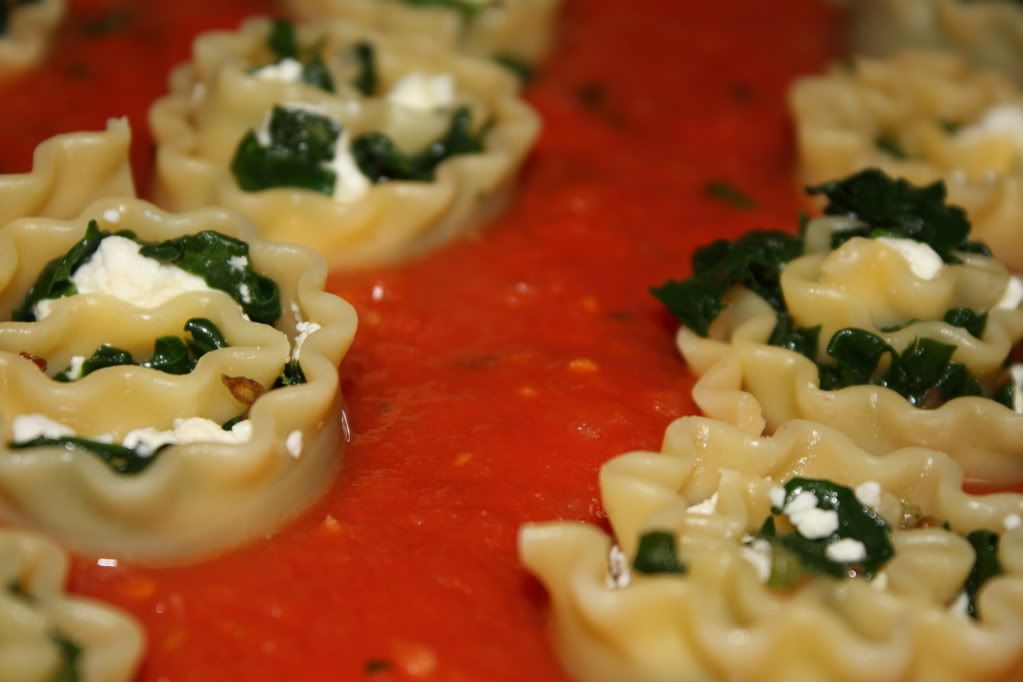 Don't you just love when you're looking for a certain recipe and come across a different one that as equally scrumptious? I was searching for a good lasagna recipe because, well, quite frankly I'm starting to get lazy and was wanting a recipe that would provide lots of leftovers.
Okay, so these really aren't a super far stretch from traditional lasagna, but they're cuter and are missing out on the meat part. (I figured Adam could get over it -- he's actually been pretty good about that.)
Spinach Lasagna Roll-Ups with Tomato Coulis
From:
Hunt's
Cooking Spray
9 lasagna noodles, uncooked
Tomato Coulis:
1 tablespoon olive oil
1 cup chopped red onion
1 tablespoon minced garlic
3 cans (14.5 oz each) Hunt's Diced Tomatoes, undrained
1/4 cup thinly sliced fresh basil
1/2 teaspoon salt
1/2 teaspoon ground black pepper
Filling:
1 tablespoon olive oil
2 tablespoons minced shallots
3 pkgs (10 oz each) frozen chopped spinach, thawed, squeezed dry
1/2 teaspoon salt
1/2 teaspoon ground black pepper
1/4 teaspoon ground nutmeg
9 tablespoons crumbled feta cheese
Okay now, don't get too stressed by the length of the ingredient list. I'll walk you through the steps.
First prepare the coulis.
Chop your herbs and veggies. (If using fresh spinach, use waaay more than 30 oz., it will wilt and shrink down once you cook it -- I did not, and really had to stretch my filling.)
Cover each lasagna noodle with spinach mixture and feta.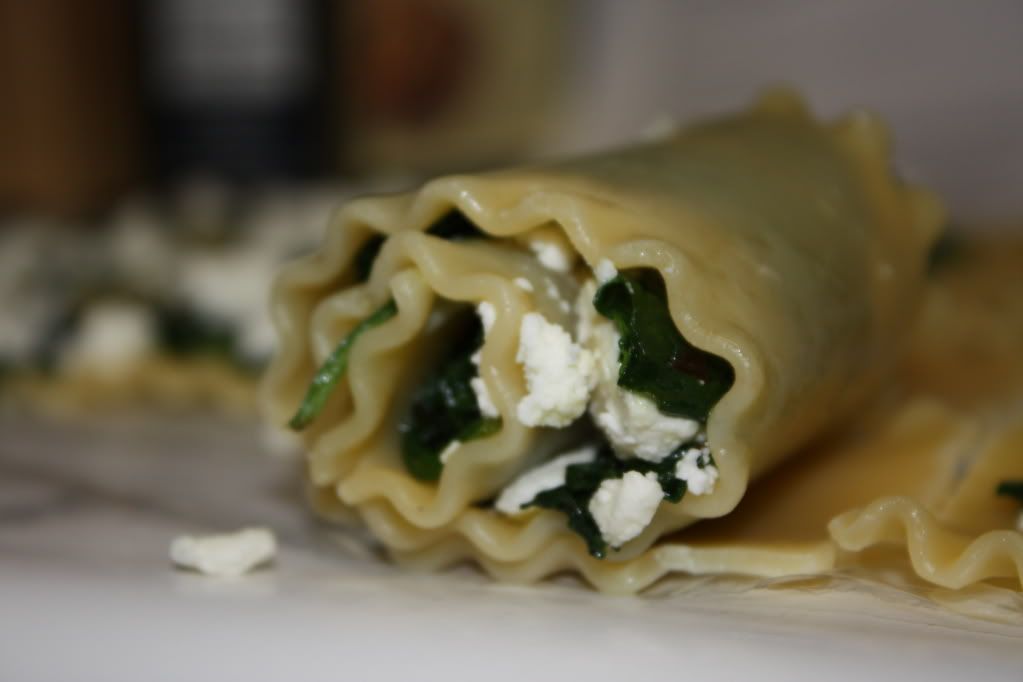 Roll 'em up! Then cut in half so each half has a curly edge.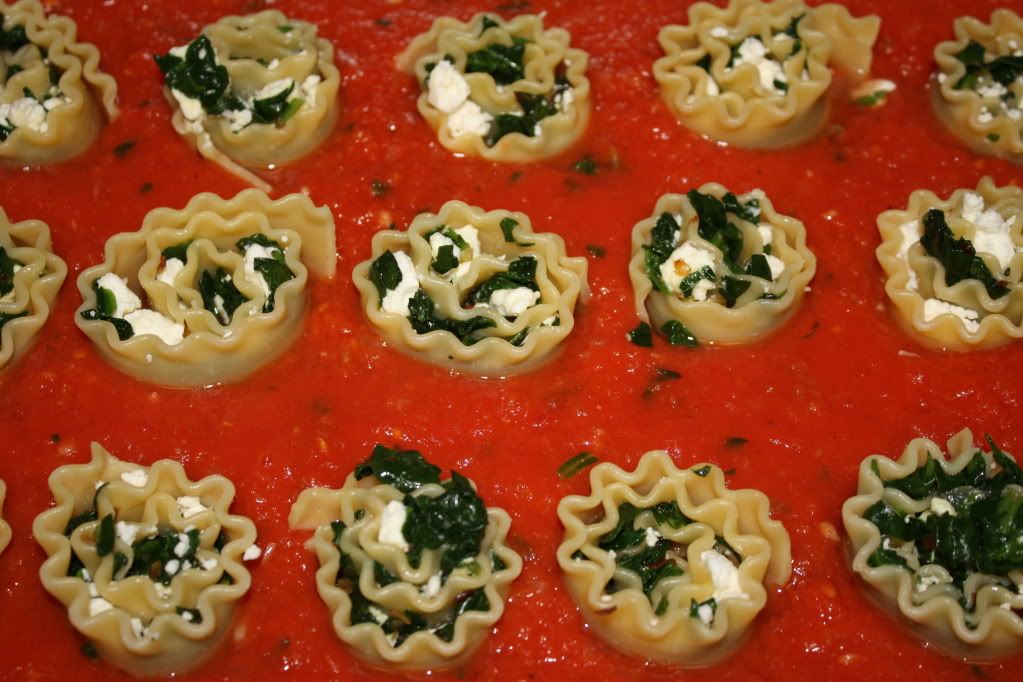 And nestle those bad boys in that delicious smelling sauce.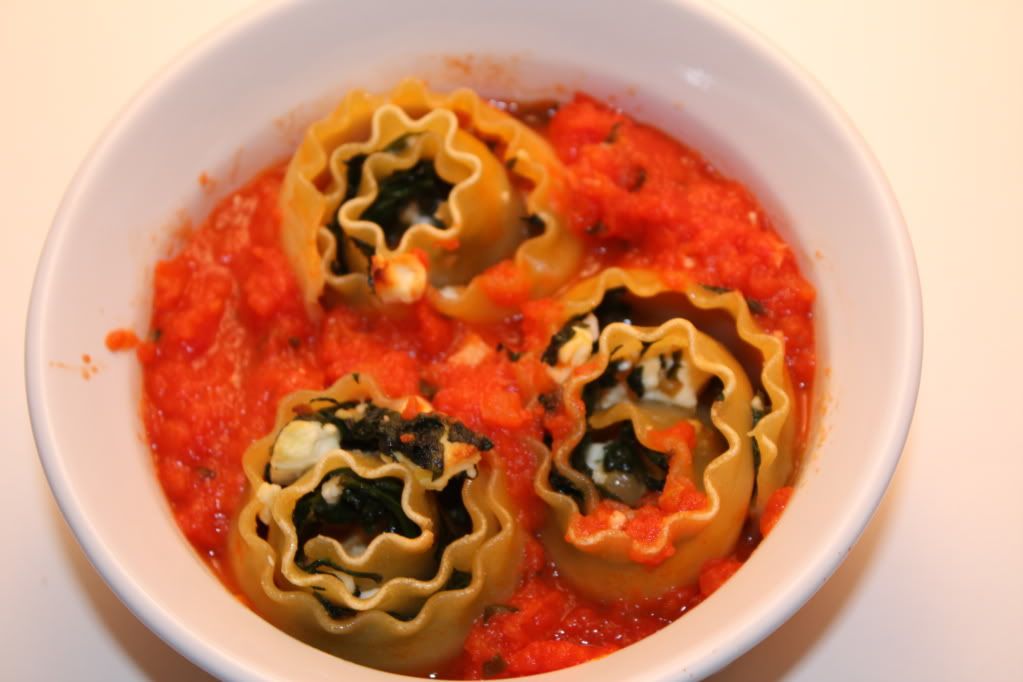 Cover
and bake (make you cover them or the tops will get hard -- not like anyone here did that or anything...). Then place in dishes and enjoy!
Okay, the real directions:
Preheat oven to 350F. Spray 13- x 9-inch baking dish with cooking spray. Cook lasagna noodles for about 6 minutes in salted, boiling water (or until pliable but still firm). When done, rinse with cold water, drain. Spray noodles with cooking spray to prevent sticking until ready to fill.
Meanwhile, make Tomato Coulis. Heat oil in medium saucepan over medium heat 1 minute. Add onions and garlic; cook 4 minutes, stirring occasionally, or until onion is tender. Add undrained tomatoes; cook over medium-low heat 30 minutes (sauce should be gently bubbling around edge of pan). Remove from heat; add basil, salt and pepper. Working in batches, place coulis in blender container and puree until smooth. Place coulis in baking dish; set aside.
For the filling: Heat oil in large skillet over medium-high heat 1 minute. Add shallots; cook 3 minutes, stirring occasionally, or until tender. Blend in well-drained spinach, salt, pepper and nutmeg. Cook and stir 3 minutes or until heated through. Remove from heat.
Place plastic wrap on work surface. Lay out lasagna noodles. Top each with equal amounts of spinach mixture (about 1/3 cup). Spread spinach evenly over each noodle leaving last 2 inches uncovered. Sprinkle 1 tablespoon feta over spinach on each noodle. Roll up each starting with the covered end. Carefully cut each roll-up in half and place ruffled-edge facing up in dish. Cover dish with aluminum foil. Bake 30 to 35 minutes or until sauce is bubbling and roll-ups are hot.
To serve, spread 1/2 cup hot coulis in each shallow bowl; top with 3 roll-ups. Remaining sauce may be served on side. (Serves: 6)



Alright, if you're kind of intimidated, don't be. I swear they are easier than that small novel makes it look. And they're delicious. And cute. Maybe a little hard to eat in a bowl (especially when the tops are hard -- so cover them while baking!!), and a little time consuming, but totally worth it.
Not too shabby from a canned tomato company!


Nutrition Facts
Amount per serving
Calories 282
Calories from fat 84
% Daily Value


Total Fat 9.3g
14%


Saturated Fat 2.9g
15%


Trans Fat 0.0g


Cholesterol 27mg
9%


Sodium 669mg
28%


Total Carbs 40.3g
13%


Dietary Fiber 6.1g
24%


Sugars 7.4g


Protein 13.3g


Vitamin A 304%
Vitamin C 114%


Calcium 24%
Iron 26%