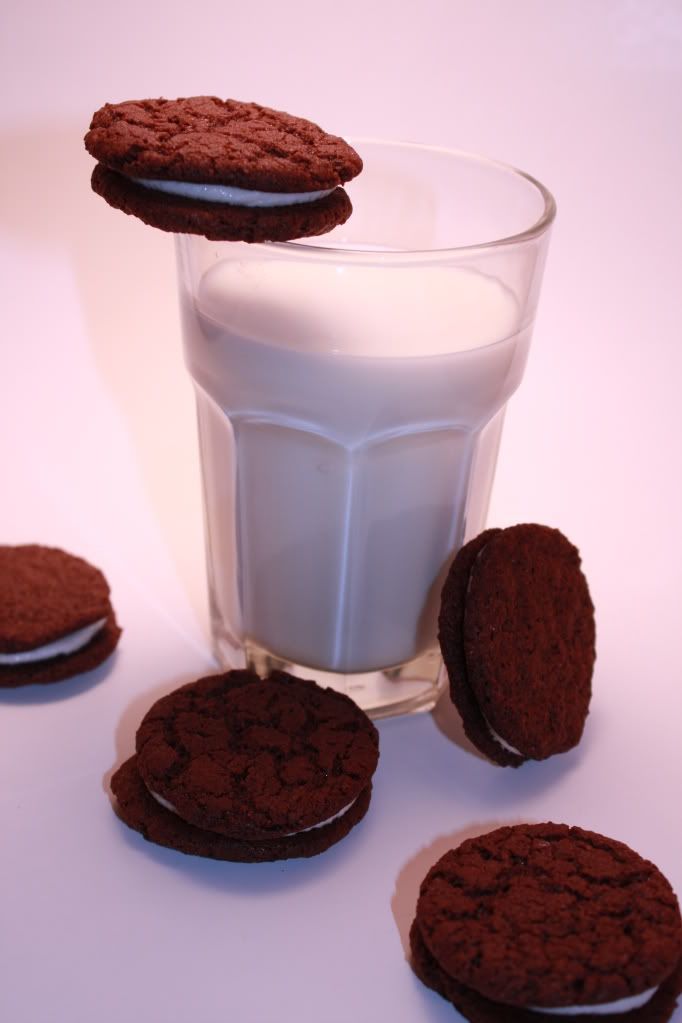 On my 18th birthday, I arrived at school to find taped to my locker,
"Happy Birthday
to our Oreo Fiend,
today you're turning
18"
(with two oreos glued to the paper to make the 8)
Or at least something to that effect. But I know for sure there were Oreos glued to the paper. And I still considered eating them.
Yeah, think I liked Oreos much? Surprised that I would jump at the chance to try this recipe out? Didn't think so.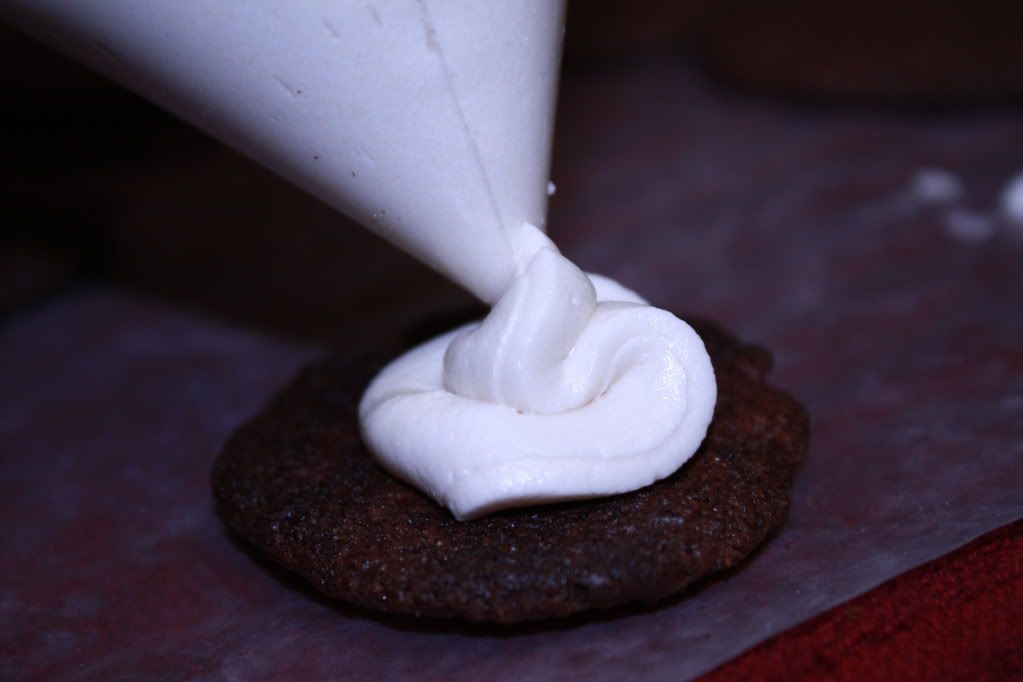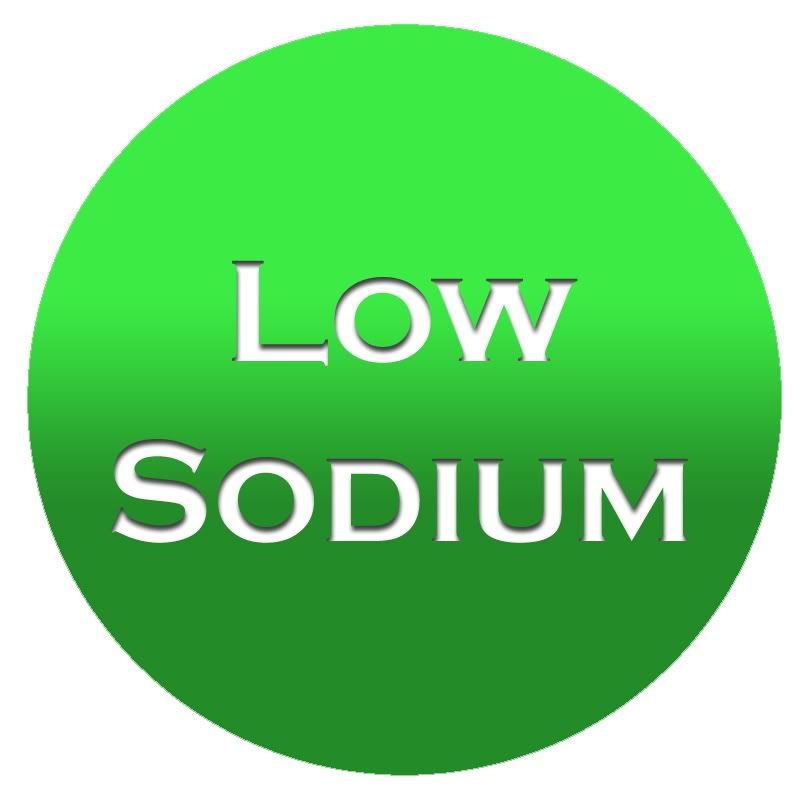 Homemade Oreo Cookies
For the chocolate wafers:
1 1/4 cups all-purpose flour
1/2 cup unsweetened Dutch process cocoa
1 teaspoon baking soda
1/4 teaspoon baking powder
1/4 teaspoon salt
1 to 1 1/2 cups sugar*
1/2 cup plus 2 tablespoons (1 1/4 sticks) room-temperature, unsalted butter
1 large egg
For the filling:
1/4 cup (1/2 stick) room-temperature, unsalted butter
1/4 cup vegetable shortening
2 cups sifted confectioners' sugar
2 teaspoons vanilla extract
Set two racks in the middle of the oven. Preheat to 375 F.
In a food processor, or bowl of an electric mixer, thoroughly mix the flour, cocoa, baking soda and powder, salt, and sugar. While pulsing, or on low speed, add the butter, and then the egg. Continue processing or mixing until dough comes together in a mass.
Take rounded teaspoons of batter and place on a parchment paper-lined baking sheet approximately two inches apart. With moistened hands, slightly flatten the dough. Bake for 9 minutes, rotating once for even baking. Set baking sheets on a rack to cool.
To make the cream, place butter and shortening in a mixing bowl, and at low speed, gradually beat in the sugar and vanilla. Turn the mixer on high and beat for 2 to 3 minutes until filling is light and fluffy.
To assemble the cookies, in a pastry bag with a 1/2 inch, round tip, pipe teaspoon-size blobs of cream into the center of one cookie. Place another cookie, equal in size to the first, on top of the cream. Lightly press, to work the filling evenly to the outsides of the cookie. Continue this process until all the cookies have been sandwiched with cream. Dunk generously in a large glass of milk.
* I used only 1 c. sugar to get closer to that true Oreo taste.
I was actually pretty surprised with how well these turned out. The cookies really do taste like the Oreo cookies, although the filling is still a little bit off. It was still also kind of hard for me to get past the fact that these were supposed to be hard cookies, I kept thinking they were going to be soft and chewy (so unlike an Oreo) everytime I went to eat one because of the way they look.
I took some of these in to work, and everyone said they were pretty good. (One nurse even mentioned something about them yesterday, a couple weeks after I took them in.)
Nutrition Facts
Amount per serving
Calories 197
Calories from fat 84
% Daily Value


Total Fat 9.4g
14%


Saturated Fat 5.1g
26%


Cholesterol 27mg
9%


Sodium 126mg
5%


Total Carbs 28.5g
9%


Dietary Fiber 0.7g
3%


Sugars 22.4g


Protein 1.3g


Vitamin A 4%
Vitamin C 0%


Calcium 1%
Iron 3%