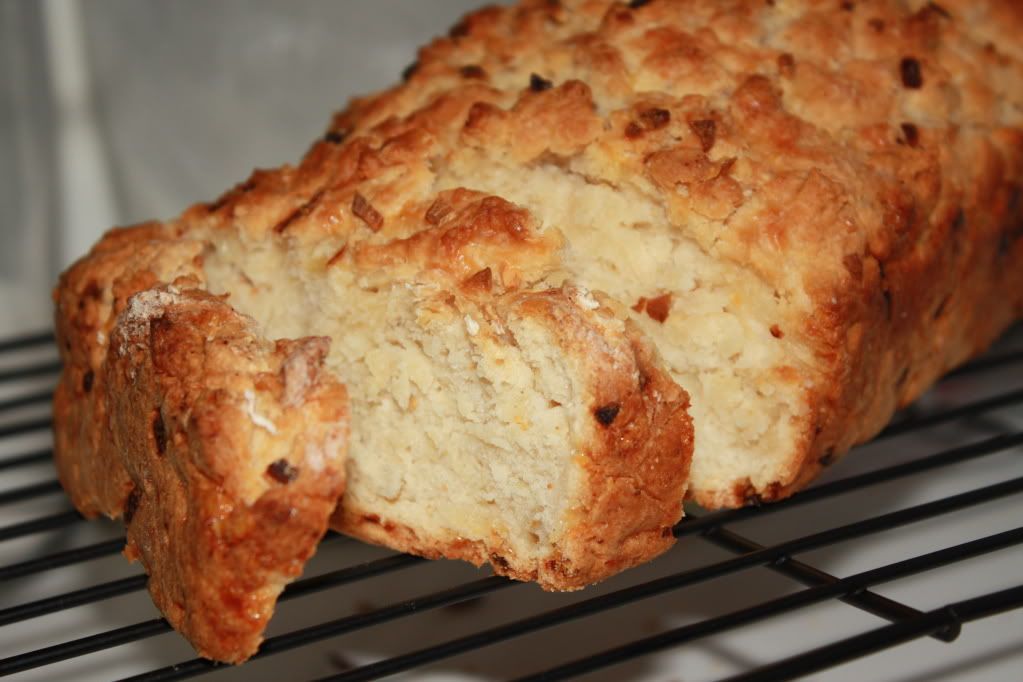 Want to know something that everyone knows about me? I hate beer. With a passion. It definitely makes for expensive nights out, but I
have
attempted to drink beer -- different kinds in fact, and I still just can't make myself enjoy it. It's really not how it goes down, but definitely the aftertaste that gets me.
Now, do you want to know a secret? I love beer bread. A long time ago, my dad got a bread machine and would try out different kinds of recipes with it. And boy did I love his beer bread. It smells just so delicious and tastes that way too.
So when I ran across this recipe in Cooking Light, it definitely got ripped out and saved. Finally, I decided to pull this bad boy out and give it a try.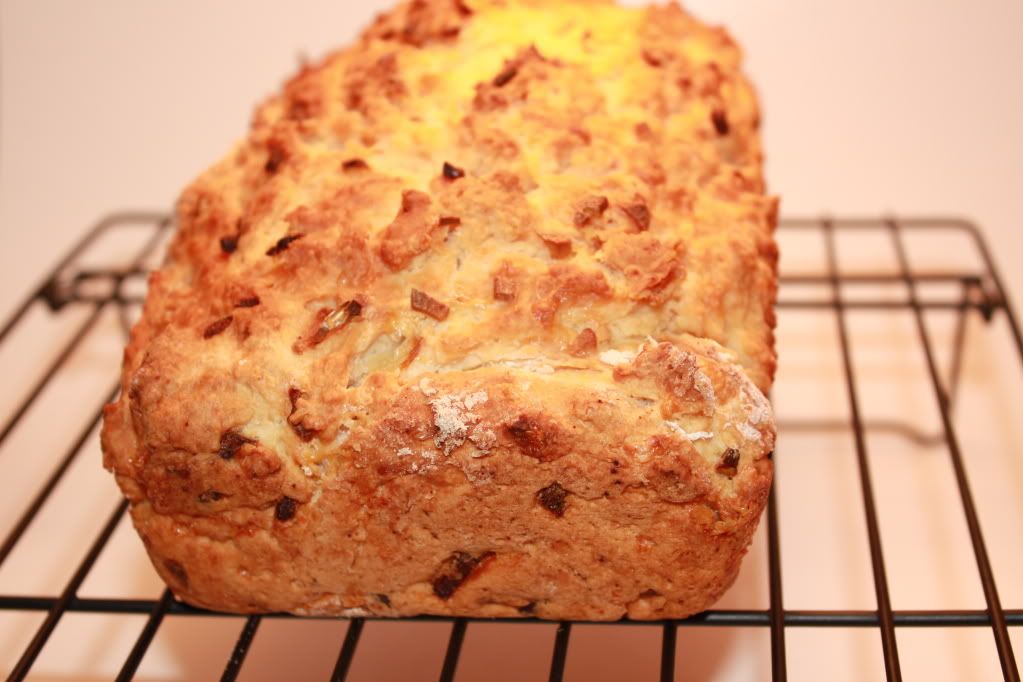 Basic Beer-Cheese Bread
1 tablespoon olive oil
1/2 cup finely chopped yellow onion
1/4 teaspoon freshly ground black pepper
1 garlic clove, minced
13.5 ounces all-purpose flour (about 3 cups)
3 tablespoons sugar
2 teaspoons baking powder
1 teaspoon salt
1 cup (4 ounces) shredded Monterey Jack cheese
1 (12-ounce) bottle lager-style beer (such as Budweiser)
Cooking spray
2 tablespoons melted butter, divided
Preheat oven to 375°.

Heat oil in a small skillet over medium-low heat. Add onion to pan; cook 10 minutes or until browned, stirring occasionally. Stir in pepper and garlic; cook 1 minute.

Weigh or lightly spoon flour into dry measuring cups; level with a knife. Combine flour, sugar, baking powder, and salt in a large bowl, stirring with a whisk; make a well in center of mixture. Add onion mixture, cheese, and beer to flour mixture, stirring just until moist.

Spoon batter into a 9 x 5–inch loaf pan coated with cooking spray. Drizzle 1 tablespoon butter over batter. Bake at 375° for 35 minutes. Drizzle remaining 1 tablespoon butter over batter. Bake an additional 25 minutes or until deep golden brown and a wooden pick inserted into the center comes out clean. Cool in pan 5 minutes on a wire rack; remove from pan. Cool completely on wire rack.
Serves: 16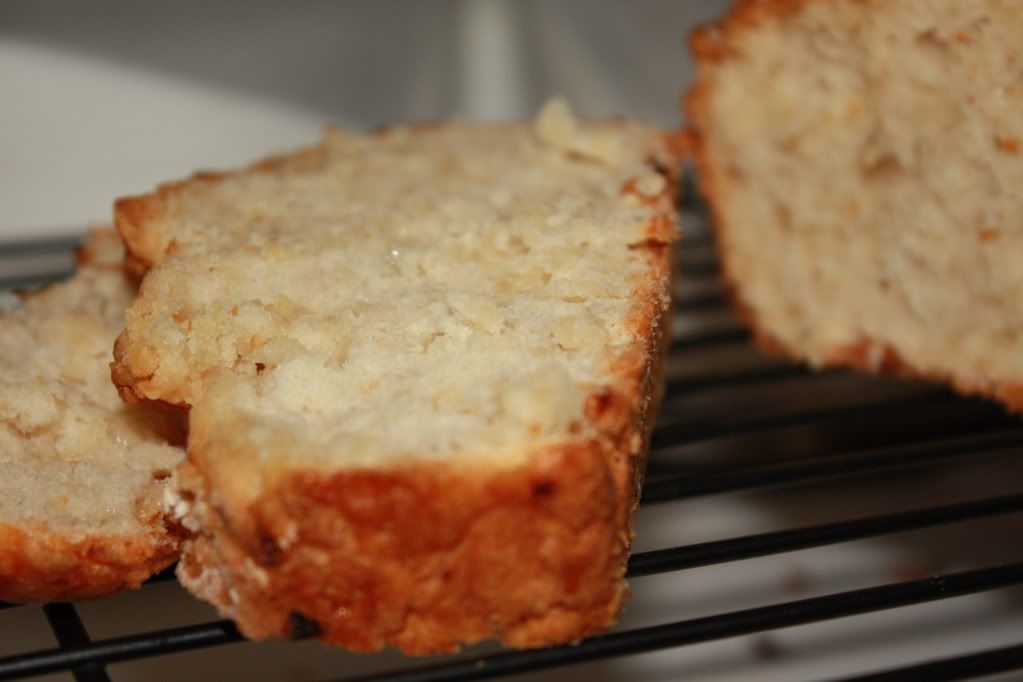 Okay, so apparently I have issues as of late with following directions. First I forgot to add the garlic to the onions (so I just sprinkled it over the top), and then with my a-mazing beer selection skills (HA) I chose to add a light Hoegaarden beer instead a darker one, which really gave very little flavor to the bread. It smelled great, but definitely was missing out on the taste.
Nutrition Facts
Amount per serving
Calories 155
Calories from fat 42
% Daily Value


Total Fat 4.7g
7%


Saturated Fat 2.4g
12%


Trans Fat 0.0g


Cholesterol 10mg
3%


Sodium 197mg
8%


Total Carbs 22.1g
7%


Dietary Fiber 0.7g
3%


Sugars 2.6g


Protein 4.4g


Vitamin A 2%
Vitamin C 1%


Calcium 19%
Iron 7%