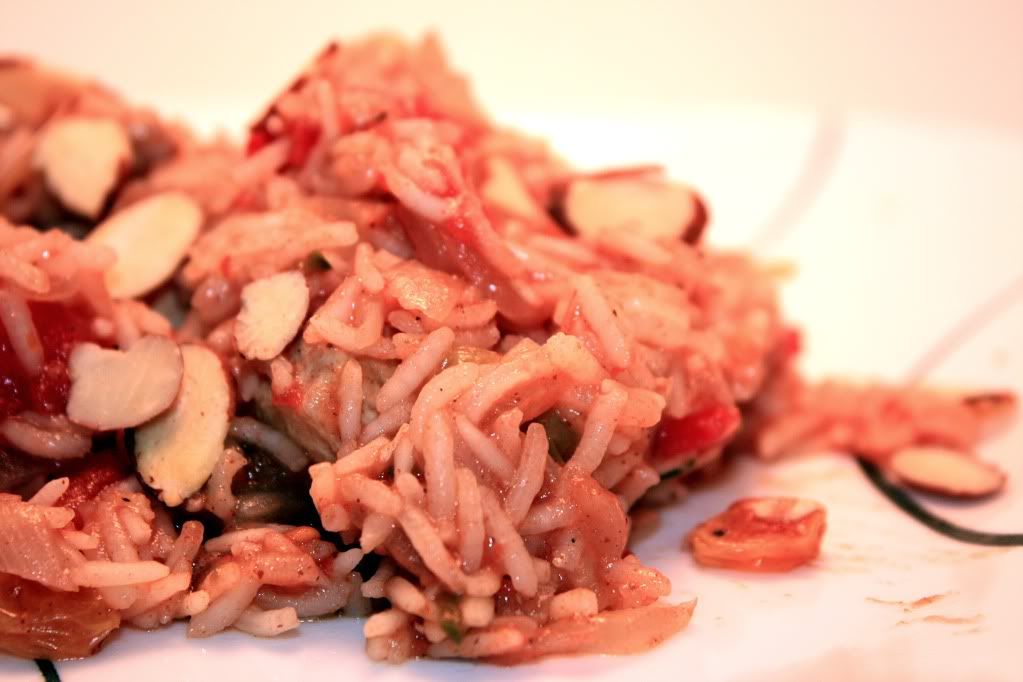 Okay, what the heck is Chicken Biryani? I had no clue when I picked this recipe out of a
Cooking Light
magazine. It was under the fast and easy section, and the ingredient list looked good, so I decided to give it a try.
Well, according to the handy-dandy
Wikipedia
, biryani is "a set of primarily Pakistani rice-based foods made with spices, rice (usually basmati) and meat/vegetables." (Muslims brought it to India, and it is a very popular dish in that region, so this dish gets classified under Indian -- that and I really don't want to have lables for every single country....)
2 teaspoons canola oil
1 pound skinless, boneless chicken breast, cut into 1-inch pieces
1 cup chopped onion
1 jalapeño pepper, seeded and minced
1 teaspoon minced fresh ginger
1 1/2 teaspoons garam masala
3/4 teaspoon ground cumin
1/2 teaspoon salt
2 garlic cloves, minced
2 cups chopped plum tomato (
I just used a 14.5 oz can of diced tomatoes
)
1 cup uncooked basmati rice
1/3 cup golden raisins
1 (14-ounce) can fat-free, less-sodium chicken broth
1/4 cup chopped fresh cilantro
1/4 cup sliced almonds
4 lime wedges (
I omitted this
)
Heat oil in a large nonstick skillet over medium-high heat. Add chicken to pan; sauté 3 minutes. Add onion and jalapeño; sauté 3 minutes. Add ginger, garam masala, cumin, salt, and garlic; sauté 30 seconds. Add tomato, rice, raisins, and broth; bring to a boil. Cover, reduce heat, and simmer 15 minutes or until rice is tender. Stir in cilantro. Sprinkle with almonds; serve with lime wedges.


Serves: 4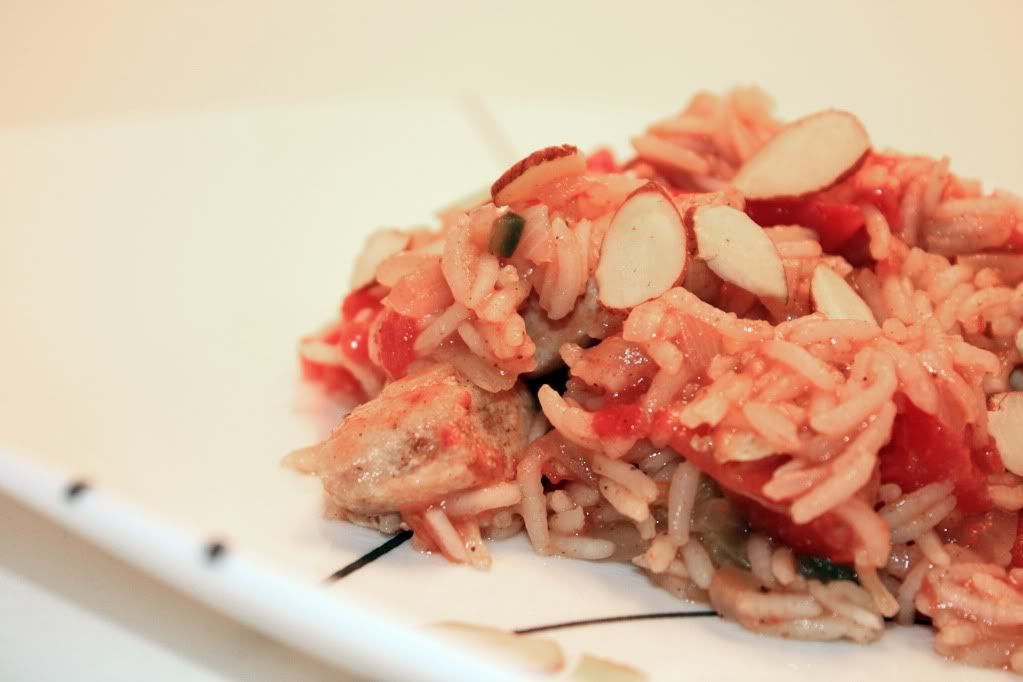 For such a long ingredient list, it actually comes together pretty quickly. I thought it was just alright, but Adam really liked it (we're actually having it again this week per his request). Thus I rate it:
Nutrition Facts
Amount per serving
Calories 414
Calories from fat 77
% Daily Value
Total Fat 8.6g
13%
Saturated Fat 1.1g
5%
Trans Fat 0.0g
Cholesterol 66mg
22%
Sodium 672mg
28%
Total Carbs 57.3g
19%
Dietary Fiber 4.2g
17%
Sugars 11.8g
Protein 30.3g
Vitamin A 19%
Vitamin C 37%
Calcium 6%
Iron 9%