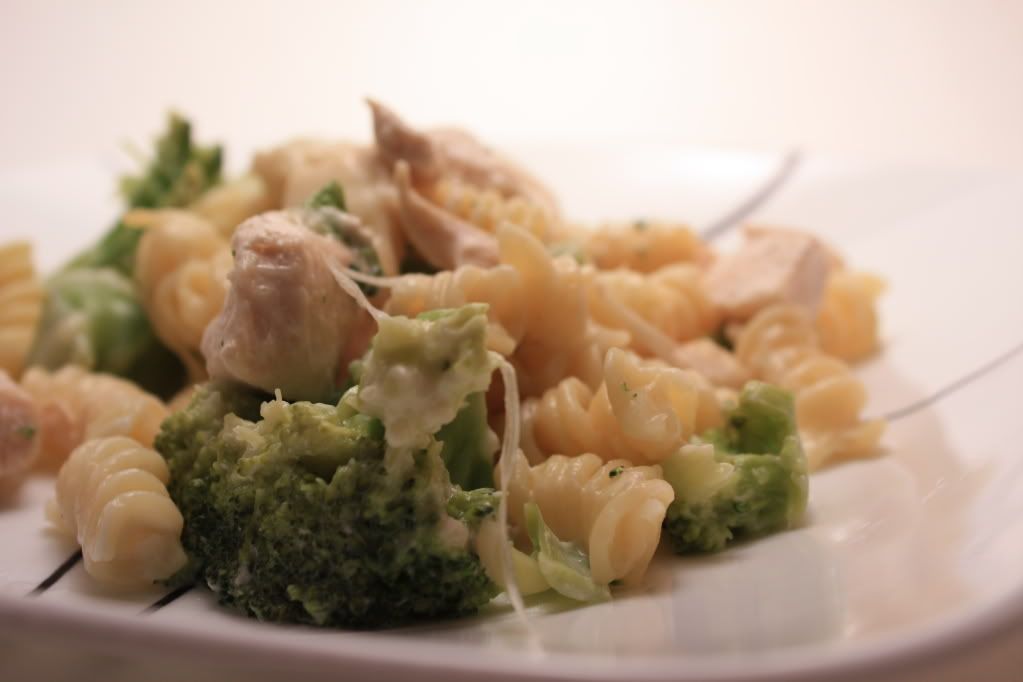 I am a huge fan of Fettuccini Alfredo. That creamy, cheesy, artery-clogging sauce is just so good. And obviously, soooo bad for you. What's a kid to do?
Well, I keep trying to find "substitute" white sauces that are at least half-way healthy for you (if that's at all possible) and this was one of those attempts. Kraft claims that this is only 390 calories, which is in theory much better than your typical alfredo, but I kind of think the sauce needs to be doubled, kind of doing away with the whole "lower calorie" idea...
Creamy Chicken & Pasta Bake

1-1/2 cups multigrain rotini pasta, uncooked
1 small bunch broccoli, cut into florets (about 3 cups)
1 lb. boneless skinless chicken breasts, cut into bite-size pieces
1/2 cup fat-free reduced-sodium chicken broth
2 oz. reduced-fat cream cheese, cubed
1 cup 2% Shredded Mozzarella Cheese, divided
2 Tbsp. Grated Parmesan Cheese

Heat oven to 375ºF. Cook pasta in large saucepan as directed on package, adding broccoli for the last 3 min.

Meanwhile, heat large nonstick skillet on medium-high heat. Add chicken; cook 3 min. or until no longer pink, stirring frequently. Stir in broth; simmer 3 min. or until chicken is done. Add cream cheese; cook and stir on low heat 1 min. or until cream cheese is melted. Stir in 1/2 cup mozzarella.

Drain pasta and broccoli. Add to chicken mixture; mix lightly. Spoon into 8-inch sq. baking dish; cover.

Bake 15 min. or until heated through. Sprinkle with remaining cheeses. Bake, uncovered, 3 min. or until melted. Let stand 5 min.
Serves: 4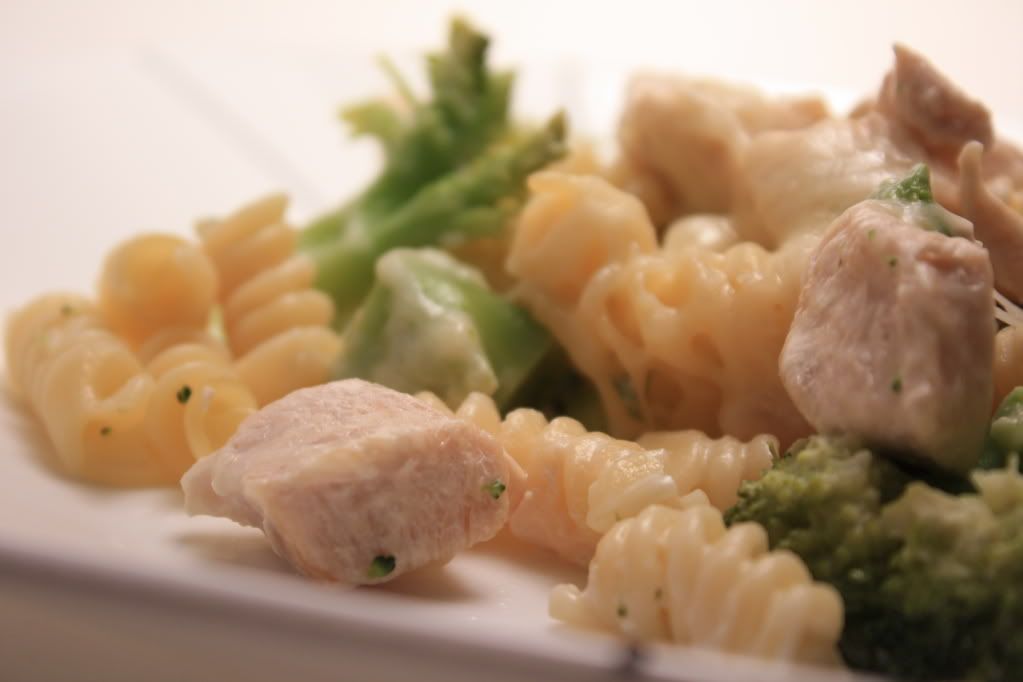 Like I said, overall it was a little on the dry side so you could easily make more sauce and not be sorry (unless you're counting those calories...). Other than that, it was a typical Kraft Foods meal, not bad but nothing outstanding either.
Nutrition Facts
Amount per serving
Calories 594
Calories from fat 192
% Daily Value


Total Fat 21.4g
33%


Saturated Fat 9.8g
49%


Cholesterol 134mg
45%


Sodium 497mg
21%


Total Carbs 46.6g
16%


Dietary Fiber 7.3g
29%


Sugars 3.3g


Protein 52.7g


Vitamin A 16%
Vitamin C 98%


Calcium 31%
Iron 43%