Ever crave really good authentic Mexican? I do. And what do I do to calm this craving? Uh, go to Taco Bell. Oh yes, that's right. We have lived here almost a year (Adam, almost 2) and have yet to find a just knock-your-socks-off Mexican restaurant. I would even be happy to find a good
authentic
Mexican restaurant. We've found one decent one, but that's pretty much it.
Adam even gave a double-wide trailer restaurant a shot, and that was "just alright." Maybe we're used to being around a more... Mexican populated area, thus more and better Mexican restaurants. It's interesting... when we think places are just okay, other people from around here really like them. Hmmm, this does not bode well for us.
Thus, I have resigned myself to finding more recipes to make at home seeing as I don't think we'll be finding any greatness around here any time soon. One recipe I have found, is a good Mexican rice recipe. (You know, the rice they always serve with the refried beans as a side? Yeah, that one.)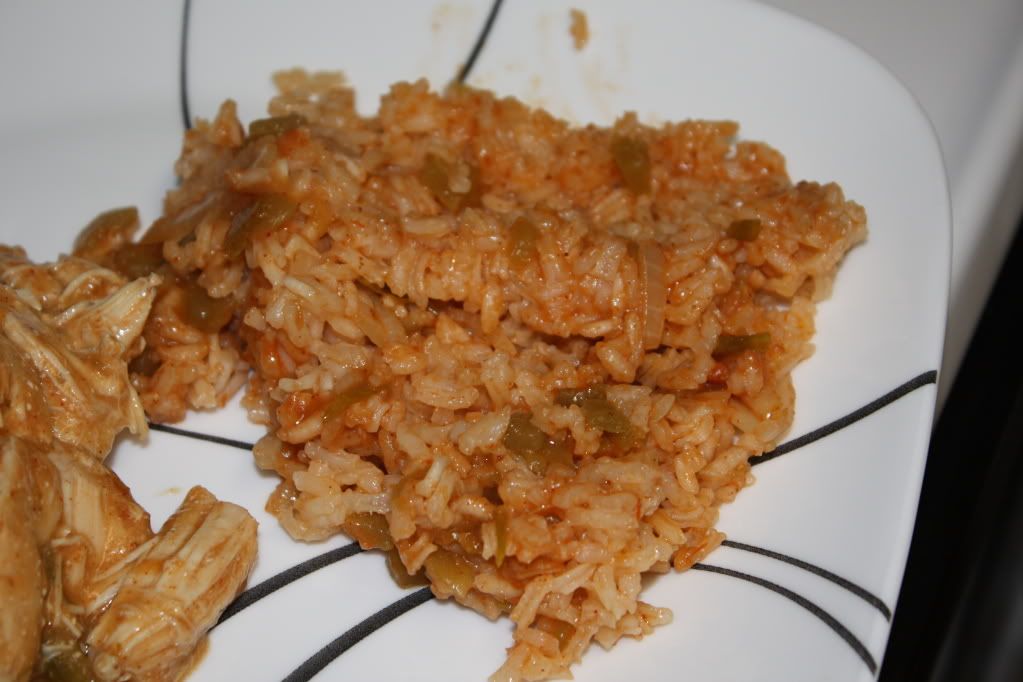 Mexi-Rice
From: Online Source
1 cup uncooked long grain white rice
2 cup chicken broth
1/2 cup tomato sauce
1/4 cup chopped onion
1 can diced green chiles
1 clove garlic, minced
3 tbsp vegetable oil
Cumin, chili powder, salt to taste
Heat oil in a large sauce pan over medium heat. Add rice, onion and garlic. Cook for 3-4 minutes, stirring often.
Add rest of ingredients, bring to boil.
Reduce heat to low, cover, and let simmer 25-30 minutes. DO NOT open lid while simmering, or the rice wont come out right. Fluff with a fork.


Serves: 4 (as a side dish)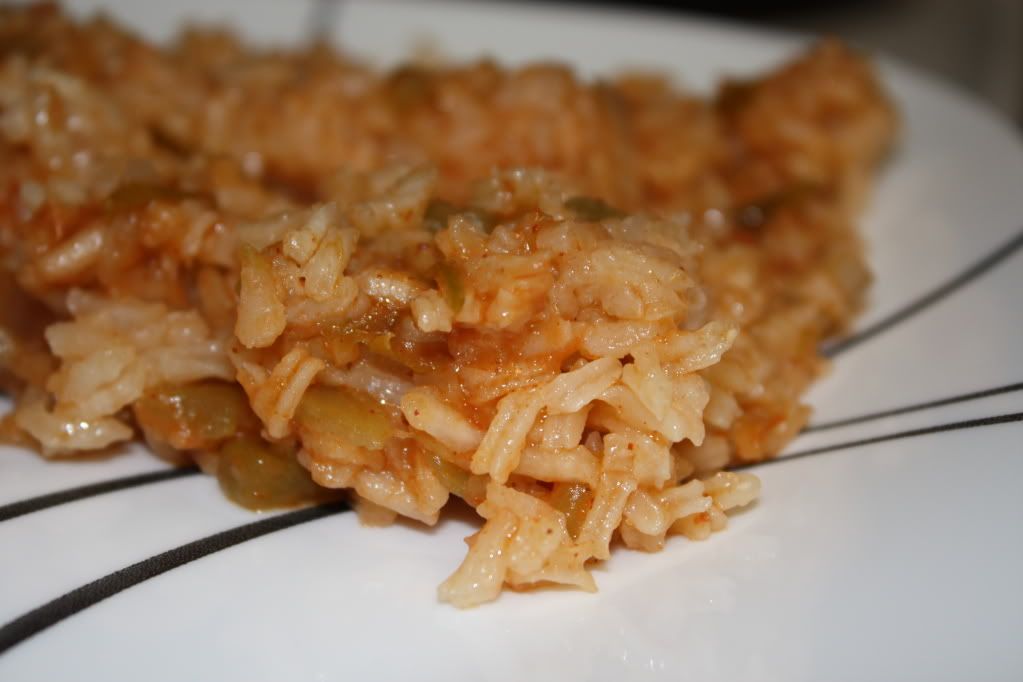 Now, my rice took me closer to 30 min, although I still need to try again to get the exact right time (25 was too short). This goes great with the
Slow-Cooker Salsa Chicken
, but of course, it'd go great with any Mexican dish.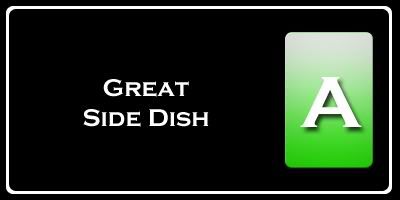 Nutrition Facts
Amount per serving
Calories 296
Calories from fat 102
% Daily Value


Total Fat 11.3g
17%


Saturated Fat 2.3g
11%


Cholesterol 0mg
0%


Sodium 943mg
39%


Total Carbs 41.2g
14%


Dietary Fiber 2.3g
9%


Sugars 2.0g


Protein 6.3g


Vitamin A 4%
Vitamin C 15%


Calcium 6%
Iron 15%