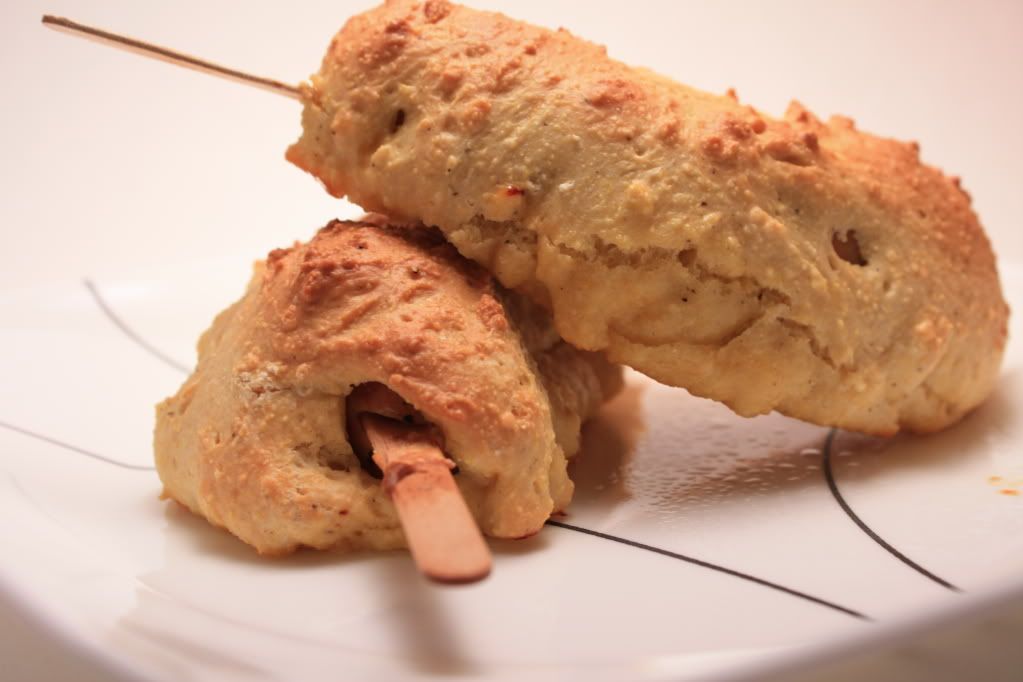 When I was younger, my mom was the queen of frozen food. We did the chicken patties, Market Day chicken stuffed with rice, tater tots, and best of all, these mini corn dogs. Those corn dogs were tiny little bites with sweet corn bread surrounding juicy hot dogs. Yummy.
As much as I am not a fan of freezer food, every once in a while you do come across good stuff. And.... I am sure that I will wander towards that glorious freezer section when I have kids and my life gets put on fast forward, too. But until then, I will keep trying to find fast and easy fixes that are as good as I remember so I may not have to travel down that aisle.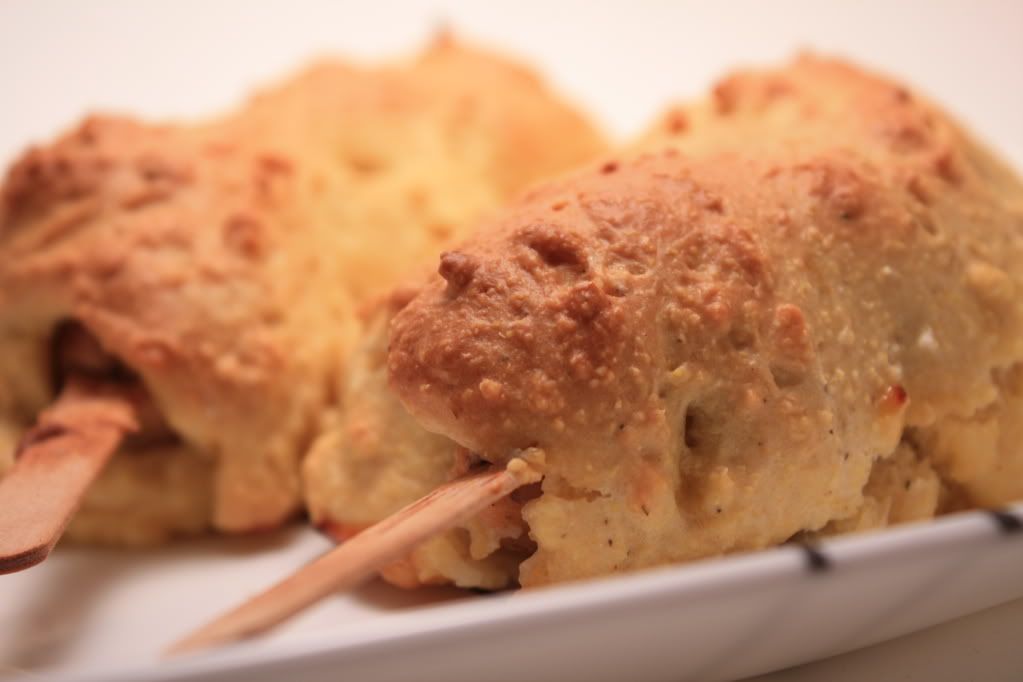 Baked Corn Dogs
1 1/2 cups all-purpose flour (spooned and leveled), plus more for dusting sausages
2/3 cup yellow cornmeal
2 teaspoons baking powder
2 teaspoons sugar
Coarse salt and ground pepper
2/3 cup milk
2 large eggs, lightly beaten
2 teaspoons vegetable oil
4 precooked smoked chicken sausages (13 ounces total) or 4 links turkey brauts
Ketchup and mustard, for serving (optional)
Preheat oven to 375 degrees. Line a baking sheet with parchment paper; set aside.
In a medium bowl, whisk together flour, cornmeal, baking powder, sugar, 1/2 teaspoon salt, and 1/4 teaspoon pepper. Make a well in center; add milk, eggs, and oil. Mix just until combined.
Insert an ice-pop stick into one end of each sausage, leaving a 1 1/2-inch handle. (Make sure to remove casings from sausages prior to coating.) Dust with flour; tap off excess. Using handle, rotate each sausage over bowl as you spoon batter to coat evenly. Place on sheet; bake 5 minutes. Remove from oven. Using a spatula, reapply batter that has slipped onto sheet. Return to oven; bake until golden, 20 minutes. Serve with ketchup and mustard, if desired.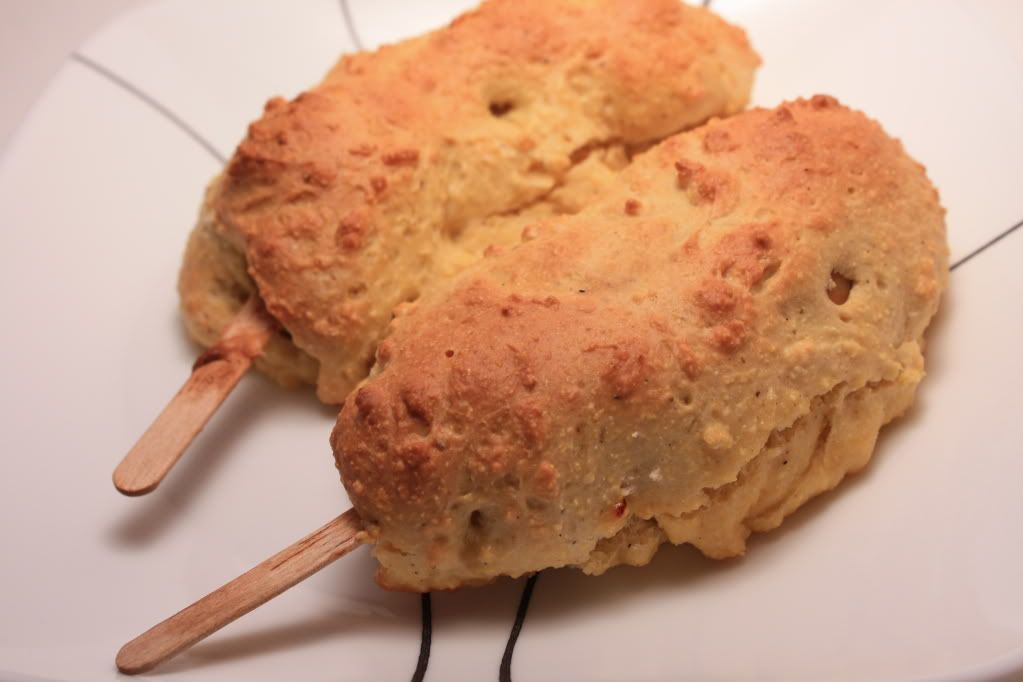 So, these were tasty, but I ran into a couple problems along the way. Now, don't get me wrong, these came together
super
fast and were overall pretty easy to make.
First, I forgot to remove the casings, which make these guys a little hard to bite into. The batter was also really thick when I was trying to coat the sausages. I'm not sure if I lost track of counting how much flour I was putting in (I was using a 1/2 cup and was busy thinking about other things), or if it is just that thick. If it's the latter, I would definitely add more milk to thin it out a bit. These guys came out super fat because of it.
Other than a few minor changes (like maybe adding a bit more sugar too), these were great, and a fun meal.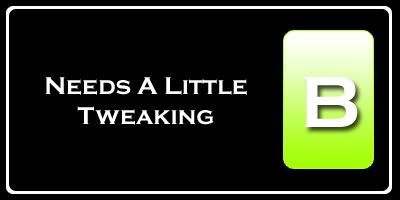 Nutrition Facts
Amount per serving
Calories 491
Calories from fat 121
% Daily Value


Total Fat 13.8g
21%


Saturated Fat 3.9g
20%


Trans Fat 0.0g


Cholesterol 169mg
56%


Sodium 843mg
35%


Total Carbs 66.8g
22%


Dietary Fiber 2.8g
11%


Sugars 13.6g


Protein 25.0g


Vitamin A 5%
Vitamin C 120%


Calcium 18%
Iron 26%